Introducing Acworth Chiropractor Dr. J. Scott Byrd
I confess: I had no idea how powerful the body was when it came to regenerating itself.
Long before I made the decision to become a chiropractor, I was a patient. In the beginning, I was the most skeptical person in the world. Prior to receiving chiropractic care, I was affected by allergies, the occasional cold or flu, and the occasional sport injury from mountain biking and rock climbing. After my introduction to chiropractic, I would get adjusted just because it felt great. In turn, I started to notice subtle changes in my general health. I slept better. I had more energy. I was breathing easier. My moods improved, and I could concentrate better. Chiropractic just kind of made my life better. I thought it was so cool how something so simple could have such a profound impact on my life.
It wasn't until I started doing research while in undergraduate school that I learned how in-depth chiropractic really is. It literally blew me away when I realized the big picture. It was also the first time in my life that I felt I had a purpose. So Moms and Dads, know that when your kids find something they love, you won't have to worry about their future anymore, their passion will lead them to where they need to be.
From the very beginning, I had always known I wanted to be a doctor to help people. My mom always told me since birth that my hands were special. There is a satire piece of this story in the office.
In undergrad, I also learned about the controversy in our "healthcare" system, which is more properly referred to as our "Disease Care System." In the early 90's, after watching my father's health decline with every treatment of his cancer and hearing what a chiropractor told my dad just before he died, I made the most important decision of my life. That was to become a chiropractor.
I attended Life University, due to its reputation of being a great school. Chiropractic school was just amazing. I enjoyed teaching technique clubs, study sessions, board reviews, and helping students who were having a hard time making it through the intense curriculum. I still stand by what I believe, which is, "You can't know it until you can teach it." My love for teaching extends to my practice, where I educate my patients and the community, through health talks at my office and at various businesses in the area.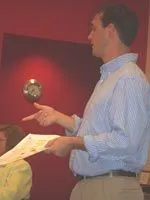 My goal in practice is to help people help themselves. I do this by removing interference in people's bodies so the natural healing processes that we all have can be set free again
As the body returns to its natural state that was interrupted by different forms of stress in the past, I teach my patients a new level of awareness. This gets them in tune with listening and understanding what their own body is trying to say, rather than numbing or covering those signals up with drugs. This is a difference between healthcare in our society verses natural chiropractic care. Once these few basic principles are understood, my patients are not dependent on me to keep them out of pain, but utilize me to live a more sensible lifestyle.
I have three amazing children. My kids enjoy riding bikes, going to school (believe it or not) and just hangin' out and playing in the backyard. My oldest son loves baseball, while my girl loves to dance. My youngest boy loves riding his bike.
My family loves helping to plan our annual Kids Day, which is a community event that we hold every spring designed to educate kids about their health, the environment, and their safety. Every year it has become bigger and bigger with activities, shows, food, and giveaways, and it is great to see it become one of Kennesaw's main annual events.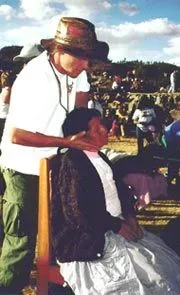 My family and I have had a 90% organic diet for the last 10 years. All three of my children were born naturally without any drugs. The last two were born at home. None of my children have ever had any vaccines or over-the-counter medication. My two older children just recently had to take antibiotics for the first time. My oldest was seven years old. The medical doctor that prescribed him the antibiotics had never met anyone as healthy as he was and said that she felt bad that she had to be the one to momentarily interrupt such a great lifestyle. Both the medical doctor and I agreed that antibiotics in this case were necessary.
Outside of practice, I am an outdoor man. I enjoy mountain biking, running, rock climbing, hiking, sky diving, and fishing. We love to go to the beach in the summer and skiing in the winter.
Enough about me! I look forward to meeting you in person and learning how we may be able to help you. Thanks for visiting our site. Give our office a call, or e-mail me using the link below, and let's arrange a time to explore your options.